#HorrorOct: THE ROMANTICIZED ANIME VAMPIRE
Inspired by the stereotypical decadent aristocrat in twentieth century vampire literature, Japanese animation tends to portray vampires in a romanticized fashion rather than their ancient undead counterparts in the West.
"The bird of Hermes is my name, eating my wings to make me tame…" – Alucard
The Vampire is possibly one of the most popular horror figures in both literature and pop culture. Although present in most European lore as undead beings that fed off the blood of their loved ones, up until the 19th century, their appearance was nothing more than bloated corpses. Bram Stocker's Dracula however, managed to give things a turn through the portrayal of the novel's main antagonist as a Transylvanian aristocrat possessing extremely powerful supernatural abilities, in addition to an affinity for blood.
Contrarily, traditional Japanese folklore hardly harbours any mythical beings that can be likened to the Vampire. The legend of Shuten Doji (Drunken Boy), an ogre that feasted on the blood of women is one of the few that holds at least some similarity. Thus, it's no surprise that the Japanese pop culture vampire is a cultural borrowing from the West.
Inspired by the stereotypical decadent aristocrat in twentieth century vampire literature, Japanese animation tends to portray vampires in a romanticized fashion rather than their ancient undead counterparts in the West. Vampires in popular culture, especially anime are usually depicted as attractive with predominantly light coloured (ranging from blonde to even lavender) hair and typically possesses red eyes. This was most probably inspired by Yoshitake Amane's illustrations for Vampire Hunter D.
Since Christianity has less influence Japanese culture, vampires are hardly associated with traits of the unholy or sin, rather the Church and other religious symbolism is used to add to their 'coolness' or exoticness.
Whilst a vampire's living quarters would generally consist of a castle or an equally ancient Victorian style house, their affinity for blood is never seen to be unnatural but rather a necessary source of healing and rejuvenation.

Vampire Hunter D (Illustration by Yoshitaka Amano)
'TRUE ANCESTOR' or 'SHINSO'
Another aspect of vampires in anime is that of the 'True Ancestor' or 'Shinso'. Usually presented as the progenitor of its kind and insanely overpowered, these living forces are ageless and tends to be aloof and unconcerned of the general ongoings of human society.
When discussing vampires in anime, it's impossible to omit the most popular anime vampire of all time; the anti-hero of the Kouta Hirano's Hellsing series, Alucard. Alucard is literally the Japanese Dracula; the infamous Vlad Tepes III just as his inverted name alludes too. Enslaved by the Hellsing family after his defeat, he is once again summoned by Integra Hellsing to serve as her organisation's greatest weapon.
A notable difference in Alucard's character is that he does not follow the conventional anime vampire stereotype. Whilst, his dresscode is somewhat similar to D, in Vampire Hunter, with him being the 'True Ancestor' and the progenitor of all his kind, his personality is far from romantic.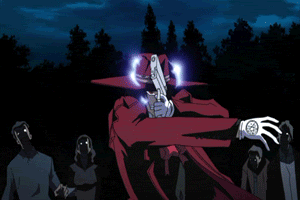 Unlike the melancholy air of the typical vampire bemoaning his bloodlust, Alucard revels in it and kills others of his kind not out of self-loathing but a wicked superiority complex. He kills his fellow inferior 'low life vampire scum' with the BFG of his choice with bullets made of melted silver from the holy cross of in Lancester Cathedral. His vicious and insanely overpowering character is seen as a refreshing change to the typical woe-is-me vampire.
CONSCIOUS EMPOWERMENT OF FEMALE CHARACTERS THROUGH VAMPIRISM
Another surprising aspect of vampires in anime is that conscious empowerment of female characters through vampirism. Although there remains much fetishism involved with the she-vampire in both anime and manga, there's less of a harem aspect unlike in the original classic novel by Bram Stocker, where Dracula has three brides who are bound to do his bidding.
Anime she-vampires enjoys a lot more freedom, and far more powerful in both physical strength and character rather than a being reduced to a mere hollow object of desire. Kiss-Shot Acerola Orion Heart-Under-Blade from the Monogatari series, Saya Otonashi from Blood+ and Krul Tepes from Owari no Seraph are primary examples.

(Saya Otonashi from Blood: The Last Vampire)

(Kiss-Shot Acerola Orion Heart-Under-Blade from Monogatari)
Furthermore, Japan also has its fair share of high school vampires as well. Vampire Knight, the popular shojo series by Matsuri Hino, produced by Studio Deen, can be seen as the improved version of Twilight with better characterisation.
Whilst Yuki is the typical Bella, instead of Team Edward vs Team Jacob, it's Team Kaname vs Team Zero. Kaname Kuran, the main vampire of the series is mysteriously unreadable which leads the audience to constantly question his motives towards Yuki, making his character more fascinating than that of his sparkly counterpart Edward Cullen.

(a gif with Kaname and Zero)
Thus, whether it be in the form of a modern Vlad the Impaler, with a murderous superiority complex, a beautifully cruel she-vampire or a blood-sucking high school bishonen, Japan shows an obsession towards these mythical beings and has certainly contributed to their redemption. The creatures that were once upon a time perceived as ghoulish and villainous have now become magnificent heroes of the dark.
STAR WARS: EPISODE VIII – THE LAST JEDI (2017) | Film Review
RATING: 4/4
~
WRITEN AND DIRECTED BY: Rian Johnson
PRODUCED BY: Kathleen Kennedy, Ram Bergman
BASED ON: Characters created by George Lucas
EDITED BY: Bob Ducsay
CINEMATOGRAPHY: Steve Yedlin
MUSIC BY: John Williams
STARRING: Mark Hamill, Carrie Fisher, Adam Driver, Daisy Ridley, John Boyega, Oscar Isaac, Benecio del Toro, Kelly Marie Tran, Andy Serkis, Lupita Nyong'o, Domhnall Gleeson, Anthony Daniels, Gwendoline Christie, Laura Dern, Peter Mayhew
~
If you spent the two years leading up to The Last Jedi's release trying to speculate and predict what will happen, you may be in for a rude shock. As Luke Skywalker rightly puts it halfway through: "This is not going to go the way you think".
It certainly doesn't.
Instead, it takes everything about the Star Wars mythology and by the end of two hours and thirty minutes, blows it all up in a glorious beautiful blaze. Nothing leaves you prepared for the latest chapter delivers. It's bold, unpredictable, wildly confident, taking this old bag of tricks and adding new twists that develop organically from the characters' actions than from required plot machinations. Star Wars: Episode VIII – The Last Jedi is emotionally devastating and a grand farewell to all that has come before while preparing to usher something entirely different and new. It's the best film since The Empire Strikes Back and while it's tempting to label it The Empire Strikes Back of this new trilogy, that's a misnomer. It takes certain cues from it, such as splitting up the characters and pairing them up with different people, but then it veers off in unexpected directions.
I'm going to be deliberately vague on plot, sticking to mostly what marketing has already put out for no reason other than this film is truly best experienced knowing little as possible. Believe me when I say: there is a lot of shocking moments. It takes every fan theory you have ever had, stuffs a load of dynamite into it and destroys it into pieces.
Picking up soon after where The Force Awakens left off, the rag-tag Resistance fighters evacuate their base and flee across the galaxy, pursued by the First Order. General Hux (Domhnall Gleeson) is determined to wipe them out; so much so that even Supreme Leader Snoke (Andy Serkis in motion capture) joins the hunt. As time runs out, an awakened Finn (John Boyega) teams up with maintenance worker Rose Tico (Kelly Marie Tran) and, assisted by Poe Dameron (Oscar Isaac) from the Resistance ship, seek help from the mysterious "DJ" (Benecio del Toro) in a daring mission against the First Order.
Meanwhile, on the island of Ach-To, Rey (Daisy Ridley) must persuade the self-exiled Jedi Master Luke Skywalker (Mark Hamill) to return and help his sister, General Leia Organa (Carrie Fisher). But Luke is having none of it: gone is the eager farmboy staring at the horizon dreaming of adventure. Old age and failure to save his former apprentice Ben Solo a.k.a. Kylo Ren (Adam Driver) have damped any idea of heroics, and looking at Mark Hamill's grizzled face, it's not hard to buy it, though he's also developed a sardonic wit in that time. Luke doesn't see himself as the great hero that Rey and the Resistance do, but instead as a flawed human being. Prick him, and he will bleed.
The Last Jedi was written and directed by Rian Johnson, whose previous film credits include the enjoyable time-travel thriller Looper and Brick. He is also best known for directing three highly acclaimed episodes of Breaking Bad, the last of which- Ozymandias– is heralded as the best of the entire TV series. Indeed, The Last Jedi shares a lot in common with that episode in which everything that has been built up to this point gets completely inverted with devastating consequences, and it all results due to the actions of the characters.
Sure enough, it's the characters who shine just as much as the action. Luke Skywalker gets a grand arc here but nobody takes the spotlight more than the tortured and conflicted Kylo Ren, who goes from being a Darth Vader-wannabe to a complex evil character defined entirely by himself. It doesn't hurt that Adam Driver is a phenomenal dedicated actor and in this role, he creates an iconic villain for the series. New characters like the suspicious Vice Admiral Holdo (Laura Dern) and Rose also get their dues, and Rian Johnson accomplishes all of this without stretching out the narrative or bloating it up. It's also loaded with new creatures such as the large-eyed Porgs, the answer to the question: "What would happen if a penguin and a puffin got together?" It's quite the tightrope act, but Johnson juggles and balances all these elements efficiently without missing a beat.
Then there's Carrie Fisher. Scenes in which she is in that are already emotionally charged take on completely new dimensions and meaning in the wake of her death. Although her role is far larger here, The Last Jedi was always Luke's film with the yet-untitled (as of this time) Episode IX intended to be Leia's; that plan is now scuppered, and we'll never know what that was supposed to be. If you pay attention closely, you may be able to figure out which lines of dialogue she contributed.
The Last Jedi contains some of the most striking visuals put to screen in the saga. Under Steve Yedlin's remarkable cinematography, Snoke's throne room is bathed in striking tones of red-and-black, complete with armed guards garbed in robes of matching red. One of the most memorable shots are that of a giant spaceship sliced in two. On the salt planet Crait, the white surface gets ripped up with movement to reveal an underlying crimson layer that suggests the planet bleeds.
I was also surprised by the amount of humour present in the film. It's not that past entries are devoid of it but here, the jokes toe that fine line between meta and self-conscious without ever crossing it and breaking the illusion. Moments like Rose zapping Finn or Poe saying he'll put on hold while making a call to General Hux come unexpectedly and yet in line with the nature of these characters. When General Leia tells Poe to 'get his head out of his cockpit', it's very much the kind of admonishment that both Leia and Carrie Fisher would tell a brash youth.
The question is: what next? It's difficult to imagine the follow-up film going back to the old status quo after this; indeed, it would render everything in The Last Jedi moot if it did. Rian Johnson has been handed the keys to developing a new and separate Star Wars trilogy once Episode IX is completed, and while I'm now very much looking forward to it, I wish Disney would give him that money to make his own intellectual property instead of continuing to play in the sandbox that George Lucas created forty years ago.
But that's a story for another time. For now, savour the excitement and rollercoaster fun that is The Last Jedi in all its glory and bombast. It's everything you could have asked for and more. That there itself is an achievement.
TULIP FEVER 2017 IS PASSIONATE AND AWE-INSPIRING | FILM REVIEW
By Deana Claessen
This historical drama released by the Weinstein Company has been in the making for quite a long period of time. Inspired by Deborah Moggach's novel of the same name, the idea first took root for a film in 2004. Discontinued, plans were taken up once again in 2014 and filming began. After one too many postponements, the film was released at last on September 1st in the United States. Frustrated by the wait, there were high expectations for this supposedly passionate tale brought to cinematic reality. Unfortunately, the film lacked the fervor and passion needed to take it to the edge which resulted in its dramatic fall from grace.
Director Justin Chadwick is by no means new to historical dramas having directed The Other Boleyn Girl(2008) complete with rich settings and costumes. So it would come as no surprise that there is a certain attention to detail in Tulip Fever as well, thanks to the Director's supervision of cinematographer, Eigil Bryld. However, the film, set in 17th century Amsterdam has an overwhelming amount of grim and moody overtones that add too much unnecessary weight to the movie that in no way helps the audience to relate.
The plot follows a young married woman, Sophia Sandvoort (Alicia Vikander), that finds herself in an affair with a skilled painter (Dane DeHaan) yet to make a name for himself. Their love story unfolds against the backdrop of the Tulip Mania, an actual event in time in which prices for the newly introduced bulbs of the tulip flowers reached an extraordinary high and then suddenly collapsed leaving many destitute. Vikander's orphaned Sophia is more or less bought into marriage by a rich elderly merchant, Cornelis Sandvoort (Christoph Waltz)  in exchange for her siblings gaining safe passage to their only living relative.
Her husband's greatest wish in life is to have a son and three years into their marriage we find that Sophia has failed to give him one, all the while learning of Cornelis' obsessive nightly bathroom habits and a traumatizing penchant for calling his member a 'little soldier reporting to duty' during intercourse. It should come as no surprise that Sophia becomes a morose young woman hardly living a life at all, showing no signs of sexual interest in her husband. Vikander plays the part well but the character itself falls short of giving the audience something to hold onto.
It is in his efforts to immortalize himself that Cornelis hires the promising painter Jan van Loos and  this is where the real trouble begins. While Deborah Moggach's novel has quite the classical appeal and it is somewhat understandable for an affair to be struck up between the two young characters with hardly any foreplay, the film fails to pull off such a feat. While it is understood that this a young woman mentally and emotionally trapped in her own home and desperate to live, with hardly any words between the two lovers the affair lacks in its emotional aspects, failing to deliver raw passion.
But where the chemistry fails between Vikander and DeHaan, it is nearly made up for by Sophia's maid and narrator of this movie (Holliday Grainger) and her lover, the fishmonger (Jack O'Connell). Maria is the complete opposite of Sophia, cheerful where she is morose, vibrant where she is lifeless. Together with her lover Willem, the two showcase a heartfelt and passionate relationship. It is through Willem that the audience is introduced to the bustling world of the tulip market and we follow his decision to make life changing investments at the back of inns, paving the way for Jan and Sophia to mastermind a plan in which their investments in the tulip trade will land them with enough money to escape.
It is difficult to tell if the screenwriter Tom Stoppard is just incredibly good at foreshadowing or unable to lessen the predictability of this script because the audience is guaranteed to come up with a few accurate predictions merely in the first 30 minutes of the film. The film progresses quite fast, almost too conveniently so at times, but maintains its somber mood throughout, thoroughly accentuated by Vikander's performance, similar to her role in The Light Between Oceans. DeHaan falls just short of portraying the seductive painter, wholly obsessed with Sophia.
Tulip Fever has quite the casting. Academy Award winner Christoph Waltz gives a steady performance as Sophia's devoted and at times insensitive husband. He proves to be the character that's most heartfelt and surprisingly relatable as Sophia continues with her plans to trick him and run away. Dame Judi Dench plays the unique character of a wry, smoking Abbess of a convent and also plays a hand in running part of the tulip trade. She is, unfortunately, not given as much screen time as we would like. Her sarcasm and wit provides a refreshing break from the somber mood of the film. Zach Galifianakis, Cara Delevingne, Mathew Morrison and Tom Hollander play smaller roles in the film but lead to some of the biggest plot developments as the film progresses.
While not all that bad and providing some touching moments, Tulip Fever had plenty of greater potential. With further exposure of the cunning minds that ran the tulip trade rather than the bustling front that was presented, along with a more passionate, awe-inspiring performance between the two leads could have made this movie a success that would have audience gripping their seats in anticipation but sadly, just fell short of delivering.
#StarWarsRevisited | EPISODE II: ATTACK OF THE CLONES (2002) | FILM REVIEW
RATING: 2/4
~
DIRECTED BY: George Lucas
PRODUCED BY: Rick McCallum
SCREENPLAY BY: Jonathan Hales and George Lucas
EDITED BY: Ben Burtt
CINEMATOGRAPHY: David Tattersall
MUSIC BY: John Williams
STARRING: Ewan McGregor, Natalie Portman, Hayden Christensen, Ian McDiarmid, Samuel L. Jackson, Christopher Lee, Anthony Daniels, Kenny Baker, Frank Oz
~
Star Wars: Episode II – Attack of the Clones is where the cracks appear in George Lucas' ambition, or more accurately, in failing to craft a compelling narrative that can balance the spectacle with the weightier themes and notions of politics and the corruption of power. Instead, the end result is a disappointing and clunky chapter in the Star Wars mythology.
The movie picks up a decade after The Phantom Menace. Senator Padmé Amidala (Natalie Portman) is being targeted for assassination before a crucial vote in the Senate in the creation of an army to assist the struggling Jedi Order against a Separatist movement led by Count Dooku (Christopher Lee). Supreme Chancellor Palpatine (Ian McDiarmid) assigns two Jedi Knights to her protection whom she's familiar with: Master Obi-Wan Kenobi (Ewan McGregor) and his apprentice, Anakin Skywalker (Hayden Christensen) all grown up. The latter is tripping over himself at the prospect of seeing Padmé since their last encounter and now that he's passed puberty, he's smitten. Inconvenient, considering that the Jedi Order is strict on celibacy. What could have been an electrifying tale of forbidden love turns into a dull and leaden affair about as romantic as a wall. If words be the food of love, then Attack of the Clones would inspire a bout of botulism, lacking passion or memorable dialogue save this immortal gem for all the wrong reasons:
"I don't like sand. It's coarse and rough and irritating and gets everywhere."
Meanwhile, Obi-Wan Kenobi tracks the bounty hunter involved in the assassination attempts to a remote planet where it's eternally raining where he discovers that the bounty hunter, Jango Fett (Temeura Morrison) has provided his DNA to create a clone army to serve the Republic and also a younger clone for himself named Boba Fett. He continues to follow after them to a desert planet named Geonosis but gets captured by Count Dooku.
Lucas' strengths have always been more in spectacle and editing than in writing, and nowhere does this shortfall hurt him badly than in this film. The discourses in politics are wielded by dialogue that has all the personality of drying paint and the subtlety of a sledgehammer. But that is not to say his intentions aren't good: most movies of this kind rarely have anything substantial in message whereas Attack of the Clones has plenty to say: it just lacks the skill to do so with nuance. To watch this film fifteen years after it was made is to feel an eerie sense that Lucas took the events of the Separatists straight out of today's headlines when- at the time of writing- Britain voted to leave the EU and Catalonia wants to separate from Spain. It's hard not to be appreciative of Lucas' warnings about the factors that lead to the decay of democracy and the dangers of blindly putting all the power into the hands of one person. It just makes you wish that he had a better writer to aid him who wouldn't have been afraid to challenge Lucas whenever the script fell short.
Attack of the Clones is the first Star Wars to be filmed entirely in High Definition digital, heralding the advent of digital filmmaking. While the battle between film and digital still rages on, I would say that filming in digital must have made it easier to integrate the numerous and complicated visual effects in post-production that this film required.
While the visual effects have always been a major star in Star Wars, it rarely stuns as much as in the past, which in itself is staggering when considering what Lucas cooked up for this film. The final battle involves multiple Jedi Knights and a gladiatorial fight in a gigantic stadium, there's a sequence where Obi-Wan clings to a tiny ship that carries him high over a city and there are the shots of the thousands of clones lining up to be loaded on the ships. Some of them hit the mark. Others fail to conjure the same awe: when the lightsaber prowess of Master Yoda (Frank Oz) is on display for the first time, it lacks the grandeur as when he lifted Luke Skywalker's sunken X-wing from a swamp using the Force.
And then there's the inevitable question about the acting. A poor performance is almost always the result of a terrible script. Even the best actors and actresses working today can't do much with weak dialogue and plodding exposition. Veterans like Christopher Lee, Samuel L. Jackson and Ewan McGregor are able to inject as much personality as far as they are able to. Natalie Portman struggles gamely but the brunt of the criticism unfairly falls on Hayden Chrstensen as he flounders and flops like a fish on dry land gasping for air. George Lucas has never been an actor's director and Christensen is saddled with thankless dialogue and clearly not the best of guidance. All the vitriol and flack he would go on to receive for his role as Anakin Skywalker is over-exaggerated, me thinks. Fandoms can be extremely toxic in such instances. If one thing is clear, it's that you do not want to cross an angry Star Wars fan. They're deadlier than a nest of vipers. Don't believe me? Next time you come across such a passionate fan, simply whisper "Midi-Chlorians" in their ear and watch the meltdown.